Contributed by dwc on from the FIFO dept.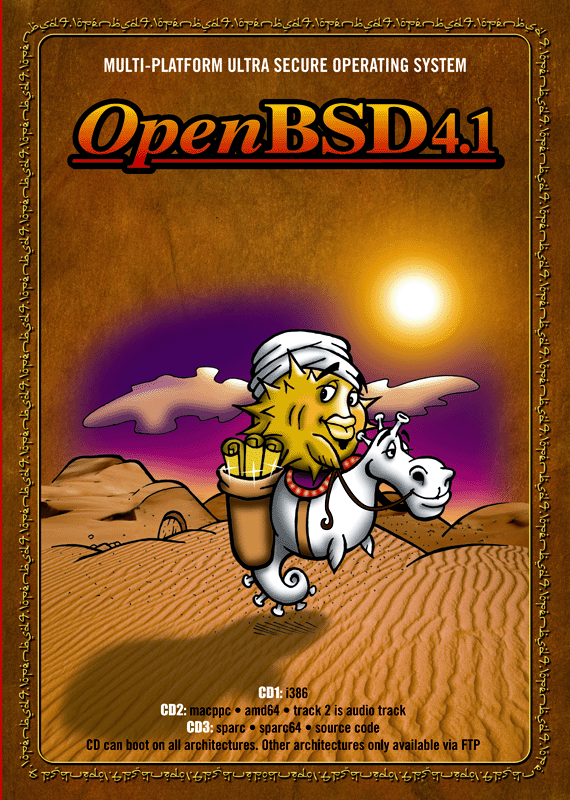 You can now place your pre-orders for OpenBSD 4.1 CDs & Posters!
This is another great release, with CDs bootable on 5 architectures. Many, many new things including: the new landisk platform; improved UltraSparc III support in the sparc64 platform; scads of new devices supported; new tools like pkg-config, hoststated, new ripd, bgplg, bgplgsh; new functionality in existing utilities such as spamd, and much more.
You also get OpenBGPD 4.1, OpenOSPFD 4.1, OpenNTPD 4.1.
This release's theme is "Puffy Baba & the 40 Vendors" and features all new, original artwork and music, featured in the ultra-cool DVD case, instruction booklet, stickers, and poster. As we saw with the 4.0 release, this means NO MORE BROKEN TABS!
Also in this release are the usual batch of code cleanups and improvements, and too many things to list here. See the OpenBSD 4.1 Release page for the whole scoop.
---
Comments

Comments

Comments

By Daniel (66.63.10.94) daniel@presscom.net on

By Anonymous Coward (80.131.66.56) on

Comments

Comments

Comments

By Anonymous Coward (80.131.81.169) on

By binsi (87.174.64.120) on

Comments

By Bret Lambert (tbert) on

By Johan Torin (jtorin) jtorin yeah gmail right com on

Comments

By Pierre Riteau (82.67.133.98) on

By Anonymous Coward (24.84.108.103) on

Comments

By Anonymous Coward (69.60.110.191) on

By tedu (71.139.164.105) on

By Anonymous Coward (149.169.135.31) on

Comments

Comments

By Anonymous Coward (70.67.139.159) on

Comments

By Anonymous Coward (71.234.149.35) on

By Cobalt (70.162.93.223) on

Comments

By mike (195.137.231.42) on

By Anonymous Coward (88.67.21.211) on

Comments

By Venture37 (Venture37) venture37@hotmail.com on www.geeklan.co.uk

Comments

By Venture37 (Venture37) on www.geeklan.co.uk

Comments

By Anonymous Coward (24.37.242.64) on

Comments

By Venture37 (Venture37) on www.geeklan.co.uk

By Anonymous Coward (129.35.160.156) on

Comments

By Joachim Schipper (Joachim) on

By henning (80.171.41.99) henning@ on

By Jeremy Huiskamp (kamper) on

By Anonymous Coward (216.68.198.57) on

Comments

By Norbert P. Copones (norbert) on

By tmib (tmib) t m i b AT x s 4 a l l DOT n l on

By Anonymous Coward (69.70.68.38) on

Comments

By myst (212.98.167.157) stasmyasnikov@gmail.com on

Comments

By Anonymous Coward (83.170.102.67) on

Comments

By Bret Lambert (tbert) on

Comments

By sthen (85.158.44.148) on

By myst (212.98.167.157) on

By sthen (85.158.44.148) on

Comments

By Cobalt (70.162.93.223) on

Comments

By sthen (85.158.44.149) on

By Anonymous Coward (68.165.27.172) on

By Igor Sobrado (sobrado) igor@string1.ciencias.uniovi.es on