Contributed by sean on from the something-pretty-this-way-comes dept.
My small pile of discs arrived yesterday.
The new cases are fabulous and unlike every release prior they have resisted the abuse of the postal system.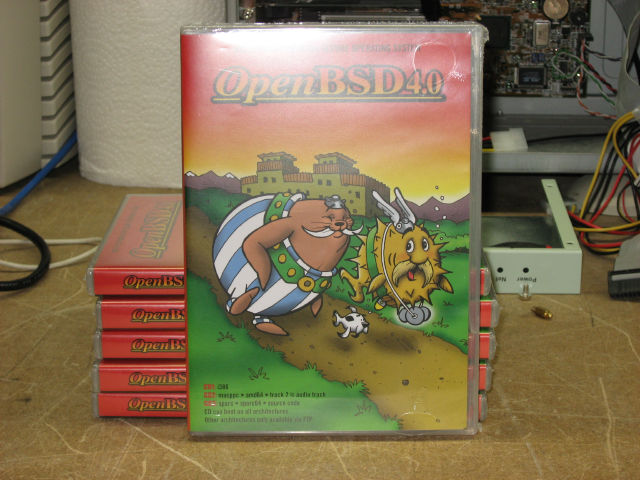 The extra room allows for more artwork and the materials give the impression of a higher quality production than past releases. Maybe that could be jaded by no smashed cases or disks this time around?
Seeing as this is a DVD case the arrangement of the discs is a bit different with the AMD64+Song disk (#2) on under the leaflet (also bigger and badder and still using a tiny font) and the other two disks on the right side. Since the case is clear there is artwork on both sides of the case wrapper.
Without even evaluating the contents of the media it is the most impressive release yet. If you haven't yet, go buy yours now!
---
Comments

Comments

By Anonymous Coward (200.123.159.229) on

Comments

By anonymous pedro (201.53.32.112) on

Comments

By zumbi (217.194.34.103) on

By Anonymous Coward (131.130.1.135) on

By Jared (72.207.228.59) on

Comments

By sean (139.142.208.98) on

By Anonymous Coward (222.126.7.222) on

By Anonymous Coward (71.196.211.139) on

By HowiPepper (68.209.134.179) on

By Anonymous Coward (128.171.90.200) on

By Anonymous Coward (204.209.209.129) on

By Peter van Oord van der Vlies (82.161.29.165) zork@cgg.nu on

By Pierre Riteau (82.67.133.98) kineox@gmail.com on

Comments

By thomasw.xhrl (70.71.136.212) on

By Stainless (84.29.210.74) mcawdewit@gmail.com on