Contributed by phessler on from the not-available-in-stores dept.
OpenBSD 6.1 was announced as the first release with no CD available for purchase.
Now it turns out that in fact, exactly one CD set was made, and it can be yours if you are the successful bidder in the auction that ends on May 13, 2017.
Bob Beck (beck@) writes in to tell us
An "Artisanally Made" collector's edition has been constructed for OpenBSD 6.1 - Featuring artwork actually drawn by Theo, (He took *lessons* to do this!) a short Haiku on the cover, and the 3 CD release set. It's up for auction on ebay to the highest bidder.
The CD set is hand made and signed by Theo de Raadt.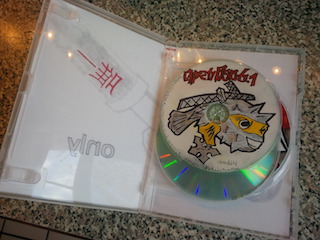 More pictures after the fold:
Click through to the auction to see some more pictures of the CD set!
As with previous OpenBSD auctions, if you are not the successful bidder, we would like to encourage you to donate the equivalent of you highest bid to the project.
---
Comments

By Renaud Allard (renaud) renaud@allard.it on

By Anonymous Coward (24.113.18.65) on

Comments

By Will Backman (24.198.212.248) on

By Antonio Gandara (98.193.41.146) on

Comments

By Anonymous Coward (24.113.18.65) on

Comments

By ian k (73.77.80.239) ian@ce.gl on ce.gl

Comments

By Anonymous Coward (24.113.18.65) on

By Antonio Gandara (98.193.41.146) on

Comments

By Anonymous Coward (24.113.18.65) on

By Edward Ahlsen-Girard (Ed) eagirard@cox.net on

Comments

By Edward Ahlsen-Girard (Ed) on