Contributed by tbert on from the brim-full-of-puffies dept.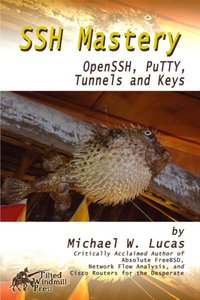 The editors are a bit late to the party, but are pleased to belatedly announce the publication of SSH Mastery: OpenSSH, PuTTY, Tunnels, and Keys . From the author, Michael W. Lucas:
Secure Shell (SSH) lets systems administrators securely manage remote systems. But most people only use the bare minimum SSH offers. Used properly, SSH simplifies your job.
You can order the book from the OpenBSD online store, or from a number of other outlets. Mr Lucas explains how, as well as the book, below the fold.
This book saves you from sifting a decade of obsolete online tutorials and quickly gets you running:SSH with the OpenSSH server and the PuTTY and OpenSSH clients. You will:

Eliminate passwords.
Manage access to your SSH server by users, groups, addresses, and more
Securely move files around your network
Forward graphic displays from one host to another
Forward TCP connections
Centrally manage host keys and client configurations
Use SSH as a secure transport for other applications
Secure applications run over SSH
Build Virtual Private Networks with OpenSSH

And more! This book simplifies the work of anyone using SSH. Small enough to read and implement quickly, exhaustive enough to include everything most of us need plus a little more. Master SSH with SSH Mastery .

Get the print book from:

the OpenBSD Project, developers of OpenSSH/OpenBSD gets the books at my cost, profits support OpenBSD and OpenSSH
my bookstore (list price, but I make the most off of these; these are Lucas Charity purchases)
Other bookstores will pick it up from the Ingram catalog before long.

Get the ebook at:

(Note that Smashwords gives you ten electronic formats for one price. I am not recommending Smashwords over the other retailers. But if you want PDF, that's where you can get it. Coincidentally, I make more from Smashwords sales than those at any other e-bookstore.)

Critical acclaim for SSH Mastery

"#SSH Mastery is a title that Unix users and system administrators like myself will want to keep within reach#"
- Peter Hansteen

This stripping-down of the usual tech-book explanations gives it the immediacy of extended documentation on the Internet. Not the multipage how-to articles used as vehicles for advertising, but an in-depth presentation from someone who used OpenSSH to do a number of things, and paid attention while doing it.
- Justin Sherrill, DragonFlyBSD Digest
---